Just as the ancient sailors arrived at the coast of Cape Verde following the stars, you too can learn to recognize them with stargazing: this incredible evening experience will make you rediscover the magic of being surrounded by the silent of the nature, under a starry sky with the assistance of expert guides.
With the help of powerful telescopes, lasers, tablets and the right latitude it is possible to learn how to recognize constellations and asterisms, planets and objects further away such as galaxies and nebulae. The moon will be ready for your photos as you have never seen it, as well as Jupiter and Saturn (in their period), the Pleiades and much more. The darkness of the African night will make you express wishes whenever you see a shooting star!
The experience aims to intrigue you, with a scientific and a romantic view, with which you can go home and be able to recognize some objects of the sky, even with naked eyes, to impress friends and family with suggestive stories to tell about myths and legends of various cultures. In addition, you will be taught how to use the astronomical applications on tablets and phones to repeat the experience at your home.
Although like a grain of sand in the ocean, Sal is a place where you can feel "part of the planet", with its animals, its volcanic earth, its sea, its climate and even its starry sky. The location without dangers, the convenience of transportation, an excursion suitable for all ages, exquisite dinner, pontch and local desserts, the ability of guides and a little technology will give you an evening full of memories. Enthusiasm is assured for everyone, while rediscover the beauty of the night sky, often taken for granted but always present throughout life.
The restaurant kitchen offers goat meat, chicken, fish, potatoes, rice and legumes, with typical local products. If you have food allergies or intolerances, you should advise during the booking.


On the beach, especially at night, it can get cold: it is advisable to dress in layers. Comfortable shoes (no heels).


During the evening it is better not to use the phone with a very bright screen, and it is forbidden to use the flash, which can disturb your vision and that of other guests.


In winter there are no mosquitoes, but in summer there may be some.


Observing the stars requires a little patience. It rarely happens that the sky is completely covered, but waiting a bit of time, you can always see something interesting.


If you're planning to take photographs of the night sky, bring a tripod and learn some basic techniques beforehand to capture the best shots.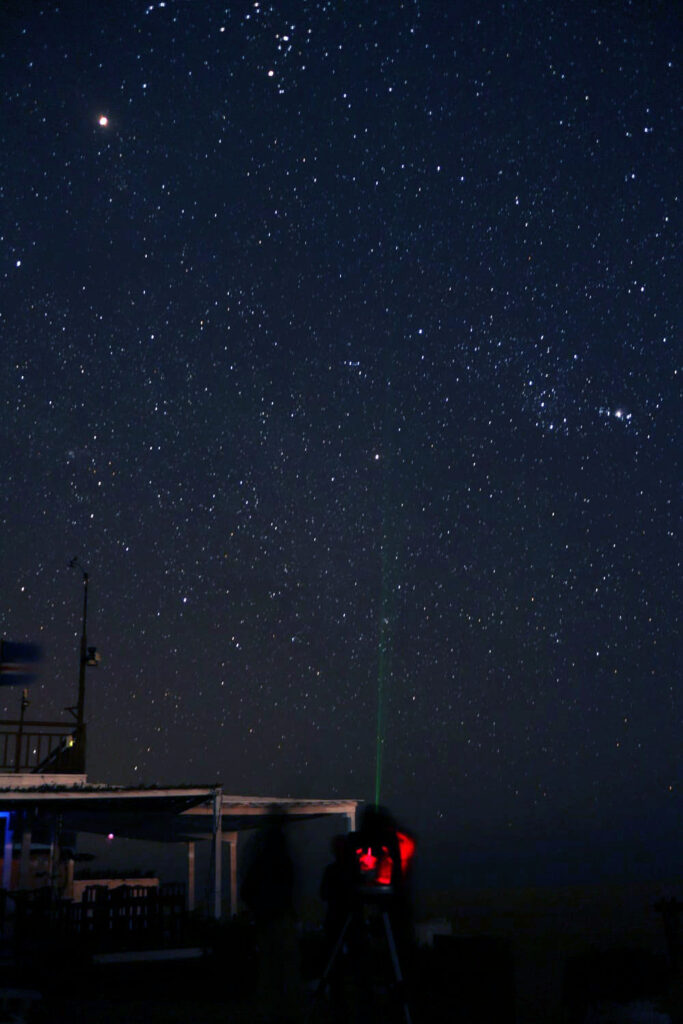 Embark on an exciting stargazing adventure on Kite Beach, enhanced by an exquisite Cape Verdean buffet dinner and a welcome drink. After the meal accompanied by live music, our guides will show you the visible celestial bodies and constellations, providing a uniquely astronomical experience.
Get ready to be enchanted as you gaze at the sky with the help of a professional telescope, laser, and tablet, allowing you to view planets, stars, and objects in deep space, varying based on the lunar phase, time, and season. Learn to use celestial body identification apps, so you can repeat this experience at home.
Stay cozy with blankets to protect you from the sea breeze and savor hot beverages and local alcoholic drinks available on-site. This excursion is also ideal for children and requires no technical skills. Transportation is included, and our guides speak English, Italian, French, German, Spanish, and Portuguese.
Every Wednesday and Saturday in Kite Beach restaurant.
DEPARTURE:
From every accommodation in Santa Maria (apartments and hotels) the pickup time is between 19.00h and 19.15h. From Espargos pickup time is at 19.00h. The local guide will write you after the pre-booking confirming the exact time.
RETURN: between 22.45 / 23.00.
TRANSFER INCLUDED: By car, at the scheduled time. Any changes will be communicated on time.
EXCURSION PRICE:
60€ adults (from 12 years old)
35€ children (4-11 years old)