Search hotels and more...
Cape Verde, with its exotic charm and breathtaking natural beauty, represents an ideal destination for those seeking a one-of-a-kind tropical retreat. The archipelago, located in the Atlantic Ocean, offers a relaxing atmosphere, pristine beaches and a pleasant climate throughout the year, making it the perfect place for a dream holiday. Among the different islands that make up Cape Verde, Sal Island stands out for its popularity among tourists, thanks to its fascinating culture, its golden beaches and its crystal clear waters.
For those looking for accommodation, Sal Island offers a wide range of hotels capable of satisfying every need and preference. In this in-depth guide, we will focus on the different types of hotels in Sal, providing you with all the information you need to make the right choice for your holiday.
Whatever type of hotel you are looking for, Sal has something to offer. Whether you're looking for luxury and relaxation or a more affordable, eco-friendly experience, there's a hotel in Sal that will meet your needs. Take time to research the different options and choose the hotel that best suits your vacation dreams.
Luxury Hotels: For those seeking a luxurious, upscale experience, Sal offers a range of five-star hotels. These hotels offer top-notch amenities such as private beaches, spas, and fine dining options. Guests can enjoy the natural beauty of the island and at the same time enjoy high-level service and amenities.
Boutique Hotels: For a more intimate and unique experience, Sal also has a selection of boutique hotels. These small, independent hotels offer a more personalized experience for guests. Many of these hotels are located in historic or culturally significant buildings, offering a unique atmosphere for guests.
All-Inclusive Resorts: For those looking for a worry-free vacation, Sal offers a variety of all-inclusive resorts. These resorts offer guests everything they need for a comfortable and enjoyable stay, including meals, drinks and activities. All-inclusive resorts are a great option for families and groups of friends looking to relax and have fun.
Eco-Friendly Hotels: For travellers looking to minimize their impact on the environment, Sal offers a number of eco-friendly hotels. These hotels prioritize sustainability and conservation, and often use renewable energy sources and locally sourced materials. They may also offer activities and tours that focus on preserving the island's natural beauty.
Budget Hotels: For those on a budget, Sal offers a variety of budget hotels. These hotels may not have all the amenities of a luxury or all-inclusive resort, but they offer comfortable, affordable accommodations for travellers.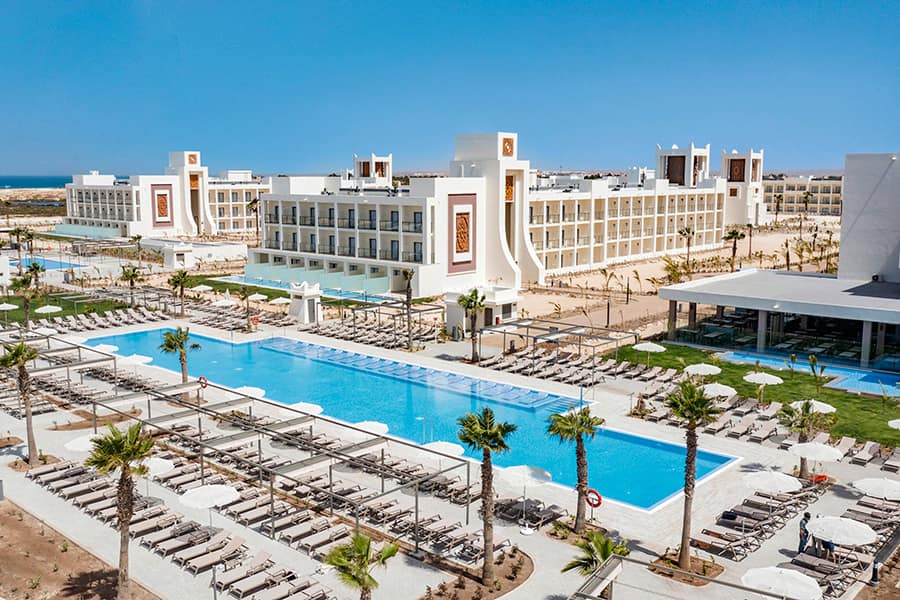 The Riu Palace Santa Maria, located on the idyllic white sand beaches of Sal Island in Cape Verde, presents an unforgettable 24-hour all-inclusive vacation experience. The hotel, nestled in a …